Bali Treasure Hunt Team Building is a fantastic outdoor training program to encourage every individual of group participant into a strong spirit to explore the environment adaptability. The game will force all group participants to find target based on the clue given by our game master. This game is very exciting flexibly executed in outdoor using bicycle or other vehicles to explore pure natures. We also able to customize our Treasure Hunt Team Building Games based on your desire either combining with other activities or tourist attractions those are all give you the impressive experiences and get much lesson of teamwork, timing, speed, tactic, strategy, and spirit of wining.
Winning the Team Building Games
It a great challenge of team building game and perfectly designed to force each individual of group participant to have a spirit of wining the games. Our games are well designed by our professional teams who creatively create the exciting and challenging games to motivate group participants to involve, break the clue, assign the tactic or strategy, control the speed, focus on goals and get win. This game is perfectly combined with other tourist attractions includes adventures and sightseeing using variety choice of vehicles like bicycle, ATV, VW Safari, four wheel drive of Land Cruiser and vans or buses. Let see the program of Bali treasure hunt game available!
Choice of Bali Treasure Hunt Game Combination
It is fantastic game combinations that each of group participants will get the great challenges to win the game while enjoy the exciting cycling adventure to explore the beautiful and pure nature of traditional village. Each group is desired to break the clue to get a certain target and do exciting games in part of cycling trips. It is an ideal team building program to build a strong teamwork, improving communication skill, speed of work and focus on goals. Get more details here…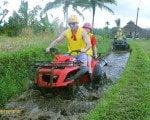 It is a fantastic team building package program with full challenges and power to get win. Each of group participants must complete the game by riding the special engine of ATV (All Terrain Vehicle) to explore the muddy land, rice paddy, jungle and small river. The games are with certain target by breaking the clue given by our professional game master. Get more details here..
It is an exciting team building program by combining the challenging of motivation games with memorial land rover adventures to explore the pure natures of Bali Island. Each of group will have great challenging game to break the clues given by our game master to get the proper target/goals while completely enjoyable with impressive experience riding on four wheel drive memorable land rover. Get more details here…
It is another memorable journey with fantastic team building passing through soft track using old Volkswagen. Each group participant will involve breaking the clues given by our game master to get the specific target at the hidden place along the trips. The route has been well assigned to explore the traditional village and places of interest in this island of God. Each group will be forced to get the win on each session of games and see more…
It is an exciting team building package combining the outdoor fun team building games and sightseeing to the famous tourist destination. Each of group will be invited to break the clues given by our game master and complete it to get a certain target. The attractive game selections will be provided in each stop point to give more spirit of each individual to win the game by improving their teamwork, communication skill, tactic or strategy and focus on goals. Get more details here…
Another Services
Bali event organizer Services and Products
Student Trip and CSR program, instead of Bali treasure hunt