Soundrenaline 2019 will be held at Garuda Wisnu Kencana (GWK) Culture Park
Soundrenaline 2019 will soon be held at Garuda Wisnu Kencana (GWK) from 07 to 08 September 2019. This event is an annual music event that always presents musicians from various backgrounds. This event was first held in 2002 and always carries the concept of music across genres. Musicians from local to international are always present to enliven this biggest music festival in Indonesia. Not only presents music concerts, but Soundrenaline also provides other interesting treats for connoisseurs of art. This is because Soundranaline 2017 and 2018 have featured A-Camp. Meanwhile, A-Camp serves as a Soundrenaline facility to offer its own charm for musicians, creators, and visitors. Festitalks activities are also held in the A-Camp. Furthermore, this place is useful for discussions and sharing around the world of music, art, and community. Also, the event was supported by experienced speakers and moderators.
Road to Soundrenaline
Road to Soundrenaline is a series of music events before the main event is held. This event was held in several regions in Indonesia which featured renowned musicians.
Soundrenaline Is One of the Annual Music Events in Bali
Soundrenaline 2019 will come soon at Garuda Wisnu Kencana (GWK), Bali on 7-8 September 2019. Meanwhile, the theme of Soundranaline 2019 is "The Spirit of All Time". Furthermore, the theme Soundranaline 2019 is a message about the progressive spirit journey of Soundranaline and the creators involved. On the other hand, you can find Early Bird ticket on the official website of Soundrenaline. In fact, there are several types of Soundranaline tickets including Early Bird, Presale, and Normal. Meanwhile, the difference between the three tickets is only the price. The rest, there is no difference based on the ticket purchased. So, the audience can still enjoy the whole event to the fullest.
In addition, ticket sales are only through the official Soundrenaline website. Also, you can buy through Tix Kiosk and some other box ticket partners. Soundrenaline 2019 has also announced musicians who will be the line-up at this event. The musicians include Danilla, Barasuara, Maliq & D'essentials, Dipha Barus, BurgerKill, Tulus, and many other guest stars.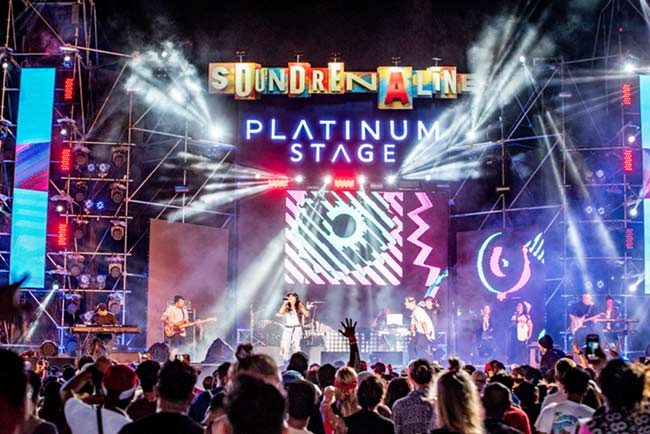 How to get there?
GWK location is very strategic and close to the airport and other famous tourist attractions. The access road to the GWK is very good and various vehicles can easily pass it.
Private Car
You can bring a private car to reach the GWK cultural park area. However, the number of vehicles during the day will burst. Therefore, the committee has suggested that arrive early to secure a parking space.
Motorcycle
Motor flexibility in maneuvering through traffic can be an effective choice to get to the GWK. However, arriving early will make it easier for you to get a place on time.
Taxi
This type of transportation can be another alternative choice to get to the GWK. Therefore, you must arrive before the event starts or order a taxi early.
Bus
For those who are traveling from a relatively distant place, a bus can be the right choice. However, you must remember that the number of buses going to GWK is a few.
Motorcycle Taxi
This transportation option is probably the most effective and efficient. This is because you do not need to think long for parking. However, you must make an early booking to avoid long queues while at the venue.
Do and Don't during Soundrenaline 2019
Some things you need to know before coming to the 2019 Soundrenaline music festival. First, the committee will forbid you to bring items such as sharp weapons, firearms, illegal drugs, food and drinks from outside. Also, they do not allow you to bring professional drones and video cameras.
Second, the organizer of Soundranaline also imposes a minimum age limit of 18 years. So, they will not allow your children under the age of 18 to enter the event venue. Visitors must bring an identity card such as KTP, SIM or passport.
See more other Bali News Update here.
Another Services
Bali event organizer Services and Products
Student Trip and CSR program