Bali Student Tours Offers Amazing Education Trips in Bali
Bali Student Tours is the Special Education School Travels program for a student group to Bali. The original program is designed especially for the campus or school in a very attractive and innovative. Hence, the program could bring your student into exciting travel experiences in Bali. Our programs are designed based on tailor-made or perfectly suggestion and advice by our professional creative teams to meet the student tours objectives. Bali Group Organizer is a reliable event organizer providing the Education School Travel Programs with the concept of learning by doing, team challenges, sustainability, and sustainable building, environmental connections, personal/group development, understanding more about Bali, socializing, fun and experiential learning. We are also delighted to provide the education school travel programs by accommodating your group themes.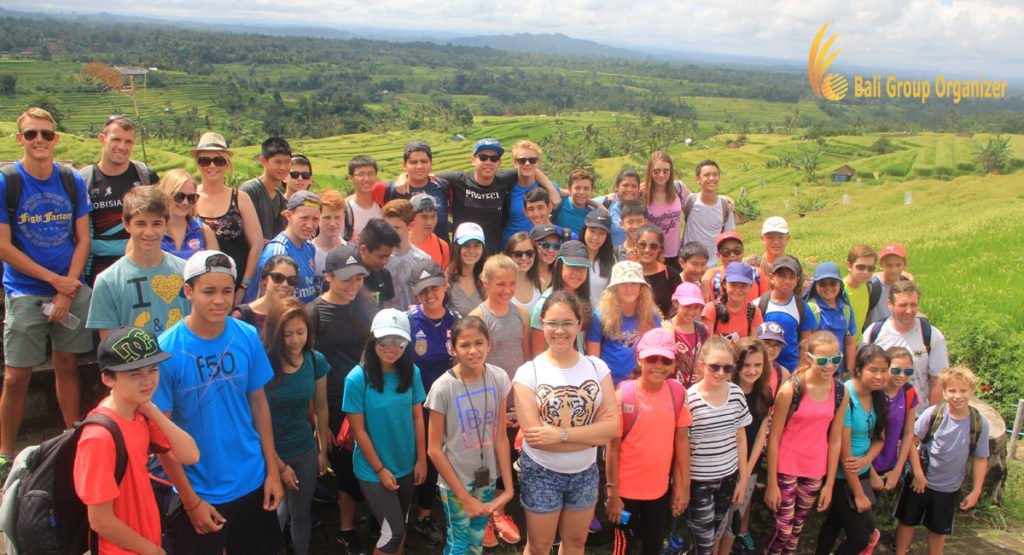 Bali Student Tours Concepts
Bali Group Organizer is proud to provide attractive Student Tour Programs and has experienced since 1998 to bring the student into memorable experiences. Our Student Tour Programs are taking the education school travel concepts to encourage the student to go around Bali and enjoy the exciting activities that are set promptly to accommodate the school and student's objective. The activities can bring them to learn, observe and obtain knowledge about local products includes cultures, environments, people, school, tourism and all about Bali. Each activity can synergy with the school programs and meet with an objective for school and student sustainability building. We are welcome to accommodate any student tours themes to be connected with our local products, environments, services, and conditions. Please feel free to contact our team for any pre-discussion of group requests to form your student group travels are meeting successfully and excellent work.
Programs of Education School Travels
As an event planner, the Bali Group Organizer is proud to provide the best exclusive student trip programs and flexibly combined with other activities that will make them more exciting on their trip to Bali.
Bali Island is a small beautiful island featured by the unique cultures that a soul of daily people life and here we are delighted to provide several cultures that you can learn and experience on your trip to Bali. We have assigned the perfect culture activities that your group can learn by doing the following culture lessons includes Traditional Gamelan, Balinese Dance, Batik Painting, Egg Painting, Balinese Painting, Wood Carving, Kite Painting, Making Balinese Offering and Balinese Cooking Lesson. Learn more…
School Visit Programs
School Visit Programs are designed for student and teacher group to visit the appointed school in Bali to invite the group participants to involve communication to the local student or teachers. They can share their experiences and information with each other. The group participants an interactive to the students or teachers directly and in the end, they will understand about the school in Bali. There are many school level are available on this island from the tranquillity of traditional village until the modern school in town that can be suited to your own group schedule.
Visit Government Office Programs
Government Office Visit programs are exclusively designed to visit the local government office and look around to discover the local government officers do their daily activities. In some opportunities, the group participant able to interact with the officers and share some of the information needed. It is mostly objective to learn, share and compare the governmental systems which are conducted in Bali.
Farming Activities are the unique activities can be done by the student on their trips to Bali where this program will invite them to involve these activities and they will fully understand the farming system in Bali. We design the farming activities on both lands either wet or dry land those are all involving and do farming on the field directly. Here, the student will learn how to be a farmer from planting up to harvest. It is also able to arrange the survey of the tropical trees type in the famous Bali's Botanical Garden located in the mountain area of Bedugul. The student will discover multifarious of tropical floras are well planted and integrating to the fresh atmosphere surround it. Learn more…
Adventure Programs
Bali has been completed by many tourist attractions as well as great adventures that can be enjoyed by anyone including student. Bali Group Organizer is proud to arrange the best selection of adventures activities in Bali Island includes White Water Rafting, Jungle Trekking, Mountain and Village Cycling, Horse Riding, Sumatra's Elephant Ride, ATV Ride, Cruise to Lembongan Island, Turtle Island Tour and other Marine Activities. All of these activities are able to be connected with other activities on the day.
Sightseeing Programs
Bali offers many places of interest to visit which are spread out the island. Our sightseeing programs are designed very exciting that will bring the student to visit the famous tourist destinations includes historical sites, panoramic landscape, local cultures, and daily local community social life. The tours will be completely comfortable using our air-conditioning coach lead by our professional tour guide who outstanding offers friendly services and interactive information.
Special Activities
Bali Group Organizer is well-establishing event organizer in Bali proud to arrange the special student group programs to meet the group themes. Our special activities are designed based on tailor-made or suggestion or advice from our professional event teams that fulfil the student group trip objective. We can provide the special group activities includes Balinese Cooking Class, Team Building, Charity, camping, Appreciation Night with Cultures Performances, etc.
Our Student Tours Experiences
Many schools have given us the confidence to arrange their students' trips to Bali since we started this business. They come from various schools with different travel themes on each trip. Besides that, we have been able to show our dedication as one of the leading event planners in Bali by providing the best service for every student trip to Bali. All student trips with us with a satisfying experience with zero accidents. Similarly, you can find out the experiences of student trips to Bali on our site.
Another Services
Bali event organizer Services and Products
Student Trip and CSR program